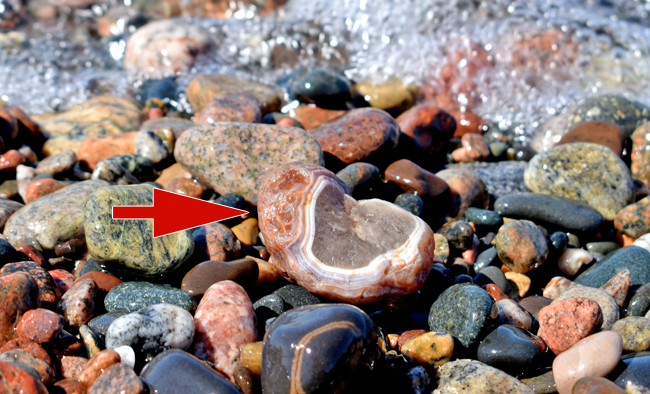 Gitche Gumee Handcrafted Jewelry
Lake Superior Agate Pendants & UP Jewelry

Upper Peninsula Jewelry & The Process
Welcome to Gitche Gumee Handcrafted Jewelry and my information on our process and steps that we take to make our Lake Superior Agate Pendants. When I wake up early I the morning, knowing that I am going Upper Peninsula Agate Hunting, I know its going to be a fun day. As you can see in the photo above, you are looking for the red iron oxide rich banding - that is very often associated with white and quartz. There are other color as well, but if you could train your eye to look for red, you are on a good path. This is the first step I take in the process of making UP Jewelry!

Lake Superior Agates are semi-precious stones. Fine sharp banding of an agate increases the worth of the agate. When cut, ground, and polished, the banding and colors are breathtaking!