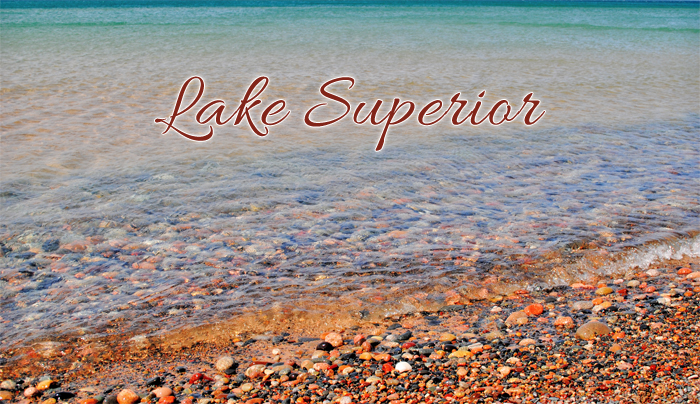 Lake Superior
Lake Superior Facts & Fun, "A Fresh Water Wonderland!"

Welcome to Gitche Gumee Handcrafted Jewelry page on Gitche Gumee. Lake Superior is by far the largest and most beautiful of all the Great Lakes in North America. Did you know that Lake Superior is the largest freshwater lake by surface area reaching 31,700 square miles? The maximum length of this body of water is 350 miles while its maximum width is 160 miles. Imagine a lake that is the size of South Carolina or Austria.

The shoreline of this Great Lake transcends a total of 2,726 miles. These are some of the most gorgeous beaches in the United States. Along this great shoreline, there is much to see and do. Here are some of the great highlights to see in Michigan's Upper Peninsula:
Soo Locks - Located in Sault St. Marie, MI
Great Lakes Shipwreck Museum - located at Whitefish Point, Paradise, MI
Tahquamenon Falls State Park - located north of Newberry MI, and south of Paradise, MI
Log Slide - located in Grand Marais, MI
Pictured Rocks National Lakeshore - located in Munising, MI
Presque Isle Park - located in Marquette, MI
Isle Royale - located in the upper west waters of Lake Superior, offering unparalleled solitude and reachable by plane or 2 ferries, located at both Houghton, MI and Copper Harbor, MI
The depth of Lake Superior is also astounding with the average reaching 483 ft. The maximum depth is 1,333 ft which is located off its southeastern shore. The first person to reach this incredible trench was J. Val Klump. This event took place on July 30th, 1985 and was part of a scientific expedition.

The Upper Peninsula shares these great waterfronts with Minnesota, Wisconsin, and Ontario. Lake Superior drains into the St. Mary's River starting at Whitefish Bay and heads south east into Lake Huron.

Over 80 species of fish have been found in Lake Superior. Species native to the lake include: banded killifish, bloater, brook trout, burbot, cisco, lake sturgeon, lake trout, lake whitefish, longnose sucker, muskellunge, northern pike, pumpkinseed, rock bass, round whitefish, smallmouth bass, walleye, white sucker and yellow perch.

"Lake Superior holds enough fresh water to cover the entire landmass of North and South America!"